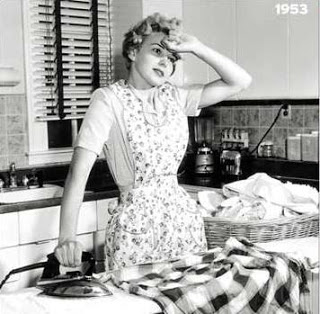 What has been going on over here?? ( Just so you know, it wasn't the ironing that did it, but I am about as stressed as this poor women!!…)
Well, things have just landed in a heap and i'm chasing my tail to find time for everything!
BUT….
I feel my crafting mojo creeping back, there is definately some quilting planned (simple, very simple quilting!) there is another Polly dolly almost complete. There is that jumper that I started knitting not one, but two winters ago……..! I need to take lots of photos and make an album for myself. My Etsy shop needs updating and the gallery on my website, I can't expect to sell pieces that folks can't see!
So, I will get to all of the above asap – and as soon as I do i'll have some piccys for you.
Thank you for still looking in, even though there has been nothing new to see.
F x x x