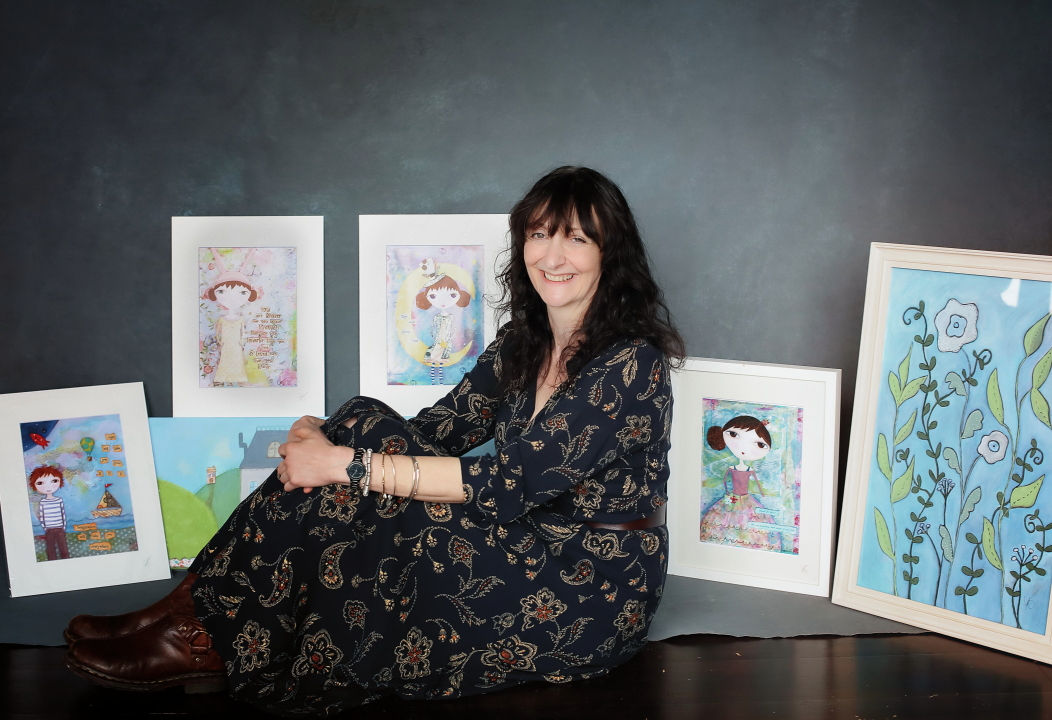 A while ago, the lovely Evelyn Woodard invited me to take part in a series was doing about the woman behind the business.
I have all the usual insecurities about having my photo taken. My nose is too big, people will think I have notions….. but the best bit about being over fifty is that I care less and less with each year!
So, while we were looking at the images we were discussing being at the "Empty Nester" stage of life, which lead to talking about all the different stages we go through as women, what we learn and what we choose to do with our lives.
Let me tell you a bit about why my journey as a Mum has lead to painting art with sentiments.
When I was at school and people asked what I wanted to do when I left school I always said the same thing, " I want to be  Mum". I wanted to create a magical childhood full or stories and love, one that my children would look back on happily.
After school I went to college to train as a nursery nurse and worked as a nanny. Then at the ridiculously young age of 21 I had my first daughter, followed by my second daughter at 24 and my son at 26.
Things were very different then, if you weren't married by the time you were 24 you were on the shelf – I realise how old that sentence makes me seem!!!
Anyway, back to the sentiments.
I have always been a great believer in visualisation.
I was living in London when my eldest was born. Her Dad was working all hours, we rented a tiny flat that didn't have heating (which made the rent affordable) and my family were living in Kent so I didn't see them that often. We were also as broke as broke can be.
I was desperately lonely. This was before internet, I often think what a difference it would have made if I could have been in online groups at that stage. There were very few 'Mummy groups' you could go to there. There were a few Mother & Toddler, but my baby was weeks old. I was that annoying woman at these groups that walked in, said hello and then wanted to be your best friend…… It was obvious I was in the wrong group, my baby was too young for the other mums to find a connection and I probably did seem a little bit weird. Looking back it was definitely post natal depression after a very traumatic birth, but if we talk about that now you'll never hear about the paintings!
So, to escape the cold ( She was born in early January) I would put her in a sling and we would go on adventures.
They only became adventures as she grew to a toddler, she would ask me to tell her about our 'adventures' when she was a baby, at the time they were just us gallavanting around on the Tube or buses. We went to every museum and gallery, we went so often that people who worked there would see my little bundle in her pink furry hat stuffed into her sling and ask how she was getting on. We went to Hyde park, we would go to libraries to borrow books and Oxford and Regent street for window shopping.
When we went to Oxford Street I would go into John Lewis (it's a very nice department store if you didn't know) I would walk through every department and plan my dream house. I knew living in London in a tiny flat with no friends was NOT the life I was meant to have. I was meant to live the life I saw in my head, in a house with a lovely wooden kitchen table, a house full of friends, a house with more babies in, and most importanatly a house full of love.
I would always have a notebook with me and would write down the exact set of tableware, I would pick out wallpaper, I created a whole other world in my head. I had no idea how I was going to achieve these things but I just believed they were for me.
I would also write stories as if I was already this dream life, and at the top of every page I would write:
Dream your biggest dreams everyday and one day they will be real.
You think now that I'm going to tell you it all came true don't you?
Well in a way it did. What happens is, your dreams change as you get older. I moved to Ireland which hadn't been on my list, but hay-ho, and after a very dodgy start, (moving to another country is strange and takes a lot of getting used to) I had my second daughter and then my son. We moved into a rented house. It was just built so it literally had cement floors but it had three bedrooms and a garden and although we were still broke I gradually started to make it the home I had dreamt of.
Years and years later when I started to paint my little whimsical characters the first sentiment I painted was this: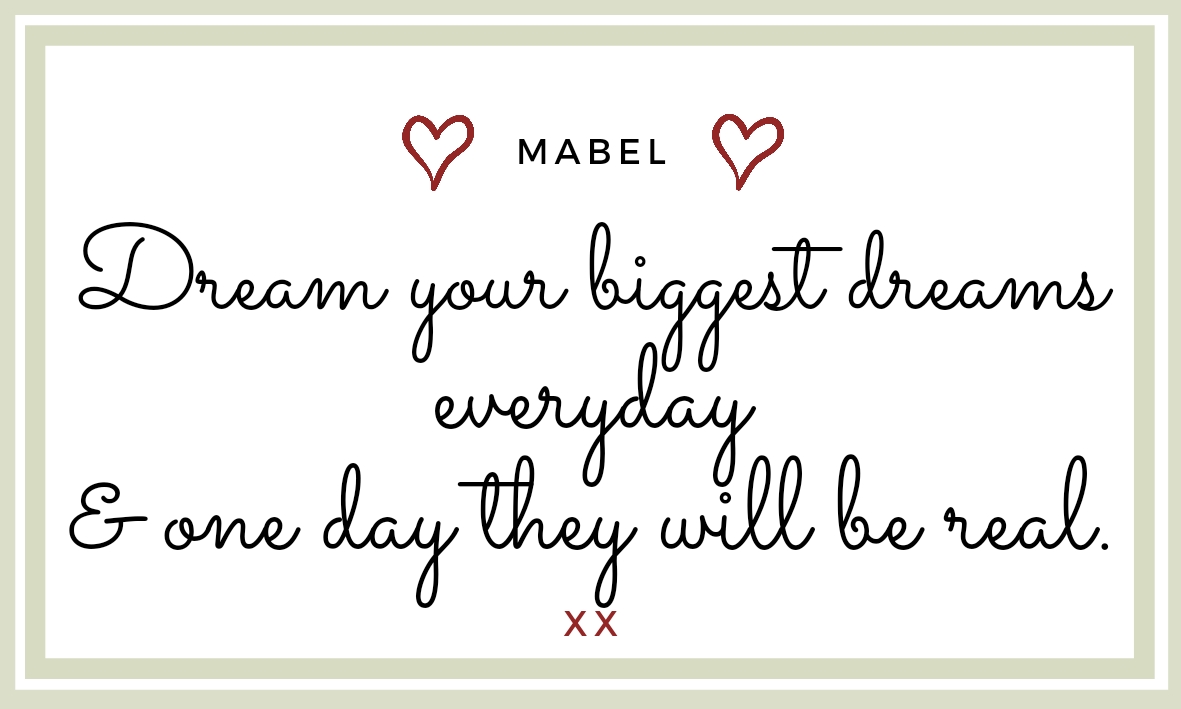 My eldest daughter now has a home of her own but every time I look at this painting I am reminded of our adventures. Of how by really, really believing in your dreams and trusting that things can only get better they do. It might not be in the way you originally thought, and let me tell you, things got a lot rougher before they got better, but here I am, happy and grateful.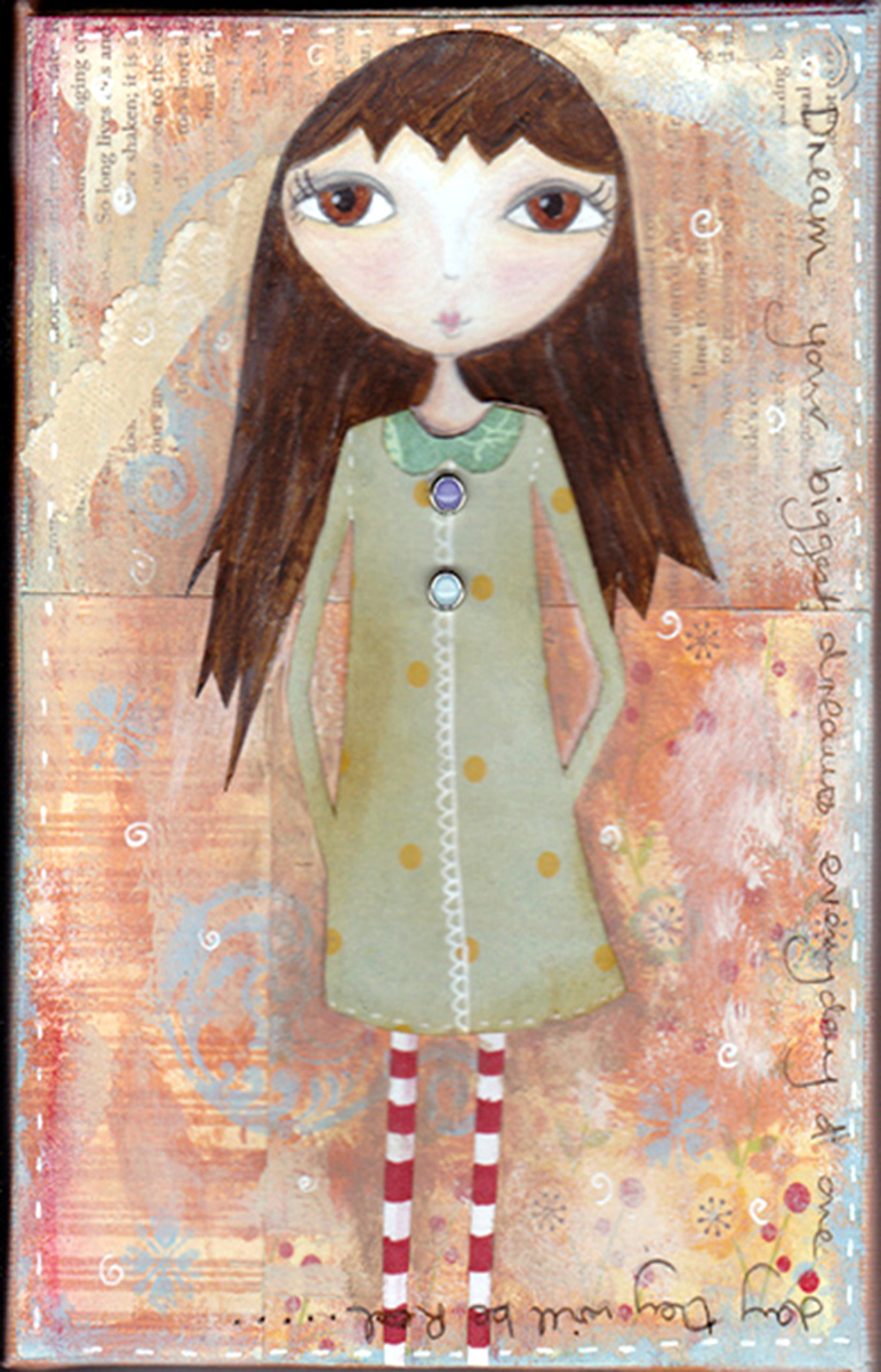 This is Mabel, I chose to use her as my logo and business card because of the power of that sentiment. I'm not finished dreaming and I continue to write this down daily.
I hope when you look at my paintings you feel the love, the magic, the lessons, the support and when you give them as a gift to someone ( or to yourself) those sentiments go with them.
F xx