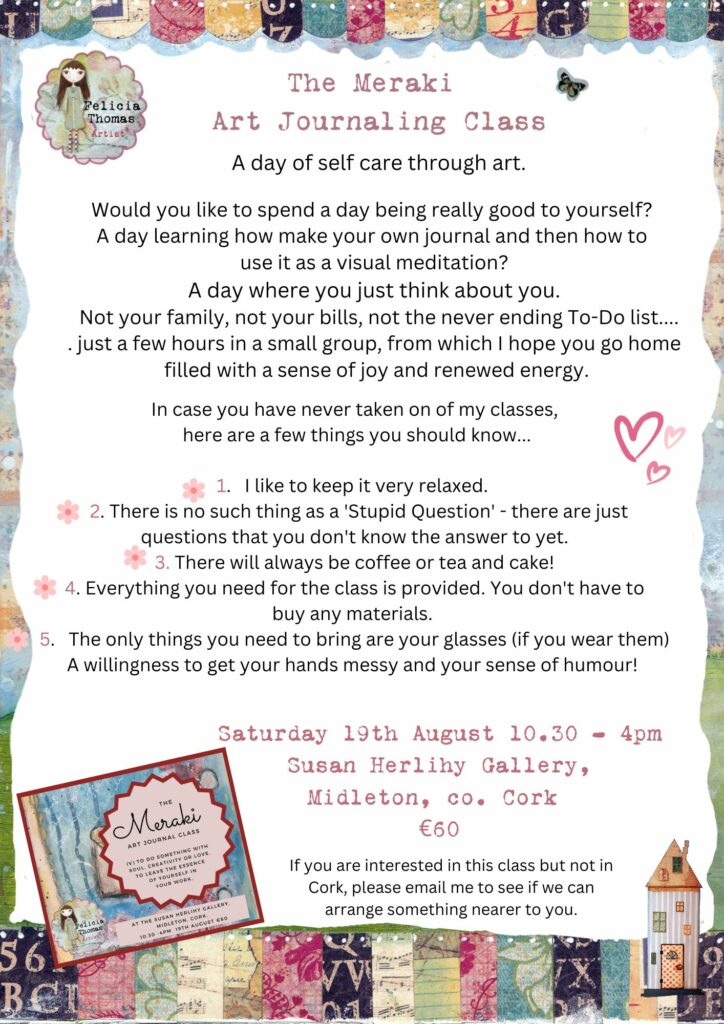 The word 'Meraki' means 'To do something with soul, creativity or love. To leave the essence of your soul in your work'.
It seems a very fitting title for this class.
We will start the day with a little explanation about what we are doing and what to expect.
Then we will spend the morning making our journals from scratch (don't worry, it's easy!) after which it will be time for a short lunch break.
There is a lovely cafe right next door, but feel free to bring a sandwich. There will also be coffee and cake 🙂
After lunch we get to the good bit – the first page of art journaling. I have created a page as a guide image for this, you can make something similar or something completely different. Don't worry if you have no experience, I will help you through each step. Of course, it is also a great class if you are a regular journaler (not sure that is a word!) I look forward to seeing what you create 🙂
Remember, It's art – it simply can't go wrong!
I will have all the materials for you. Simply bring yourself, your glasses (if you need them) a sandwich and a willingness to get your hands messy!
So to recap, the venue is the Susan Herlihy Gallery, Midleton, Co. Cork.
Date: Saturday, 19th August from 10.30am to 4pm.
Cost: €60 – all materials provided.
This class is suitable for adults only.
Bookings: To book, please call Susan directly on 087 9028186
I look forward to meeting you!
Felicia xx
P.S. If you would like to a class near you please email me to see what we can arrange. x