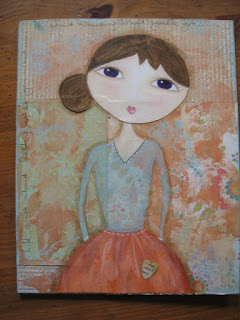 This is a new Polly – still not finished but getting there!
Hopefully it'll be finished in time for the exhibition at the Back Lane Gallery, i'm not sure when i'm supposed to have them in by!
This is a 8×10 mixed media on wood – bigger then usual, I love the way her clothes have turned out.
Its half term holidays here, so Zac is supposed to be clearing out his room so that it can be redecorated this week – what he's actually doing is drawing pictures and re reading all the stories he has found! So, i'm off to Homebase to get paint and a blind and new flooring….. it looks like any painting done today will be on walls rather than art!