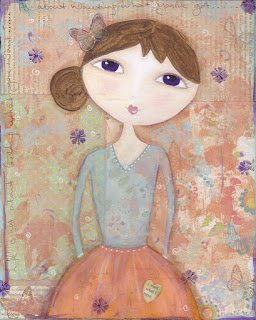 This is the first painting for the Back Lane exhibition – the writing around the edge says – " Life is not about getting what you want, its about wanting what you've got…" A sound sentiment if you ask me!
I'll be putting prints of this for sale on my etsy shop over the weekend – there is a link straight to it on the main page of http://www.scrapzville.com/
Her she is complete with frame, I tried every single colour as a background, but black wins every time!
Tomorrow i'm working but then I have five whole days off – yeah!!!!
I hope you all have a lovely Easter and make the most of the weather (though I did see on Facebook that some poor souls are STILL snowcovered!)
lotsa love,
F xxxxx