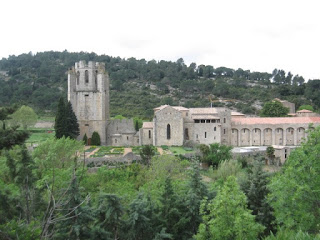 This is the abbey in Lagrasse – its just one of the many amazing buildings that we visited. Tim is a history fan and was spoilt for choice of places to visit. Actually, they were all really interesting, and there were alot of vineyards to visit too!
This house is why I want to live in France! there was a patisserie next door, which made it just about perfect!!
and this is a close up of my birthday present, do you want to know why its so special? well, i'm going to tell you anyway!
When my babies were small they always called their beds their nests – they would snuggle up and be cosy in there. Anyone who knows me knows that I LOVE being at home, I mean, love it! even if there is laundry and chaos to sort its the best place to be! and finally, the nest at the bottom has 3 eggs in, one for each of my children.
I wonder if Gwynnie knew that when she made it?