THIS IS NOW, (well, in 5 minutes)!!!
On the Crafting Ireland Ustream channel at 6pm BST
Timi is going to show you how to alter a simple lunchbox into an arty bag to hold your tools or art journal.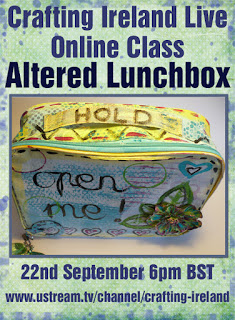 Supplies you will need:
*1 lunchbox ( I am going to use a soft one, but you can get a hard one too) I get mine in the local toyshop.
*acrylic paints
*brushes
*gel medium
*chipboard or grunge board elements/alphabets to decorate the bag
*hot glue gun and hot glue sticks
*old book pages or music sheets
*stamps or objects that you can stamp with (eg.: toilet roll, bottle tops)
*few charms
It will be a messy crafty class so prepare craft sheet, apron and a cloth to clean your hands and desk.
I am really excited about this class, hope you are too…
Happy Crafting,
Crafting Ireland Team