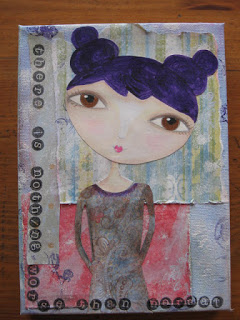 Hello!!! remember me??
this morning i sat down to look at the blogs I follow and found literally dozens, I was delighted, I love reading all these posts.
BUT, every time I tried to leave a comment blogger wouldn't let me! "choose a profile! so I did, and then it says, " choose a profile" its the same profile i've been using since I started my blog!
So I would just like to say this, to Jane, Kay, Jenni, Christa, Ebony, Dharma, Ruth, Louise, Katherine, Amelie and all you other lovely ladies, I'm not ignoring you, I wanted to leave comments, it just won't let me…… so the next thing is…. does anyone know how to fix this???? is it just me?????
The Polly in the picture is still not finished, but she is getting there – she might have stood a better chance if I hadn't given in to the patchwork quilt!
I have never started quilting because firstly you need space (of which I have none left!) and secondly I knew it would become an obsession! so far, the quilt i'm making is REALLY simple, just squares, but really pretty ones. I will take some photos today when i'm working on it.
The other thing that is taking up all my spare time is running. I started running last March to take part in the Easter 5 mile fun run, and some how got ropped into a 15 mile run that takes place on 16th July!
I'm following a training plan but I find that if I run 6 miles for the first time I think its a fluke, so i have to do it again to prove i can do it. I'm up to 8 miles comfortably but yesterday when I attempted 10 my knee suddenly stopped bending and I had to hobble back to the car.
This is not good!! i'll go to the physio on Monday to see what can be done.
So, thats all my news,
If you can't leave comments for me here then maybe Facebook?
Have a lov-er-ly day! x