Upcycled Briefcase.
Black briefcase? yes, I've got one of those.
Uses for a black briefcase? – none.
Something to display handmade gifts in for craft shows?
See where this is going?
Firstly, I painted it all over with gesso.
Removed all the pockets from the inside, which left a wooden panel.
I was going to paint inside the lid so I covered that with gesso too. That plan changed though.
This fabric has been waiting for the perfect project, and this was it! I used it to cover a piece of mount board that was cut to size, and glued it onto the bottom.
Next, I gathered a length of contrasting fabric and hot glued it into place around the sides.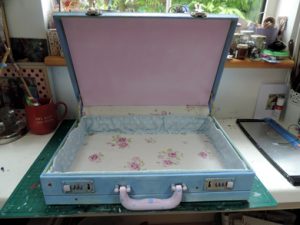 I thought I could add some text inside the lid, so I painted some more mount board. That way I can change out the board whenever I want to change the text.
On the outside I used acrylic paint, pale blue (no surprise there then!) and pink on the handle.
Some swirls, paint splatters and painted hearts added just enough detail.
And that, as they say is that!
It will definitely be used more now then when it was black. I wonder what is next in the 'waiting to be altered' pile?
Have a lovely day,
Felicia xx