House 2019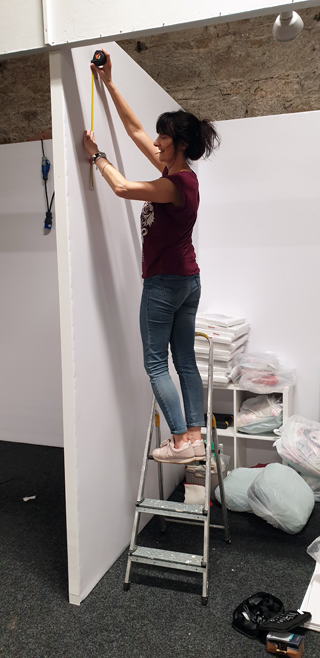 (That's me up a ladder, planning the layout)
Last weekend was the House 2019 Event in the RDS, Dublin.
I had signed up to exhibit there last December, but since I work well on a deadline is was the last two weeks that everything was finished. I had a good idea what I wanted to bring, the prints were framed, the cushions ordered but the original "Red Kettle Street" paintings and the Polly Dolly quilts were down to the wire.
Finally the car was packed and we left home at 6 am on Thursday. I was so organised. Everything was crossed off the list but what did I forget? to put diesel in the car!! Fortunately I realised before disaster struck.
There is always a lovely buzz for show set ups, you unload the car, get it all to your stand (upstairs for this show) and then stare at the blank walls wondering where to start!
A ladder and a tape measure was the first thing. Then gradually it started to take shape.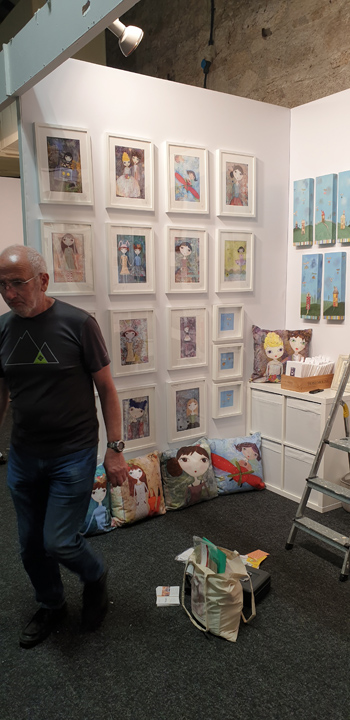 Tim came with me, he is very good at maths, I am not. So, his help with putting up the framed prints was much appreciated. I was sharing the stand with my friend Midi who does amazing work – it's very different from mine so there is an obvious divide on the wall.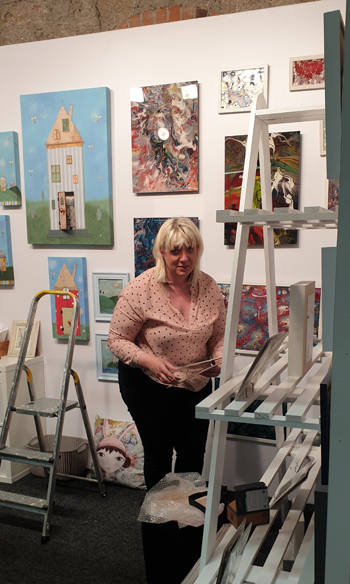 (Midi with her acrylic panels, they are so gorgeous)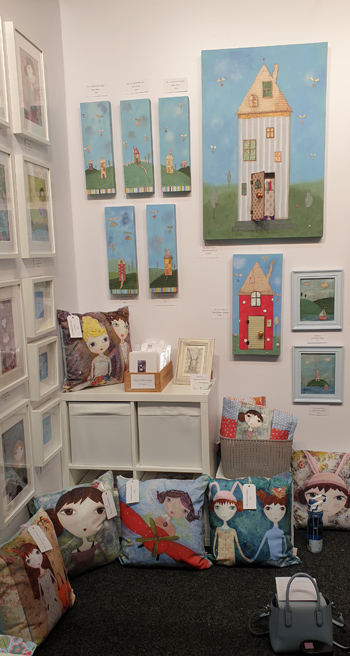 With the set up done, we checked into our Air B&B then headed into town on the bus to see Rocket Man (which was brilliant).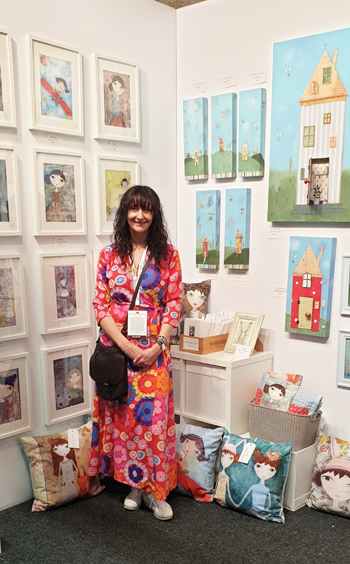 Opening Day:
Friday arrived, we didn't open until 12,which gave loads of time to look at all the exhibits. I got this dress in Kenmare and actually wasn't sure about it ('tis fierce bright) but I got loads of compliments and will wear it more often now.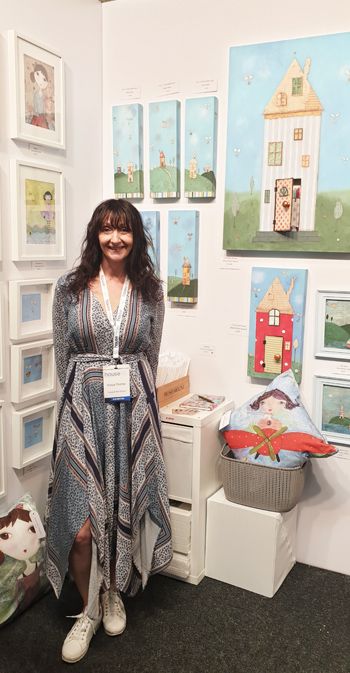 This was Saturday's dress…. If you know me you'd shocked I owned a dress let alone wear one two days running!
(I realise this isn't a fashion blog, but these things need documenting.) (Actually, it's a 'What ever I want to write about' kind of blog).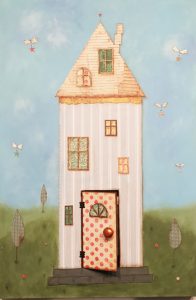 This was my biggest painting, "The Star House" (it's about 3 ft x 2 ft) it was much admired all weekend but didn't find a new home. I'm secretly delighted because I love it. So, now we are home, unpacked, rested and ready for the next time.
I met so many lovely people from customers to other artists to the car park staff. It was amazing to see the work from the other artists, we had fantastic neighbours for our stand (Eibhilin Crossan and Miriam Dowling).
I am starting to make plans for Art Source which is back in the RDS in November. If you want to follwo the preparations for that, you can follow me on Instagram  at feliciathomas.art
Felicia xx