Summer Art Class
Despite the wind and rain in Kerry (cats and dogs I tell you!) it's time for summer art class.
There was nothing else for it today, it lashed rain all day. Not what you expect for the first of August, but it was a perfect day for staying inside and getting the paints out.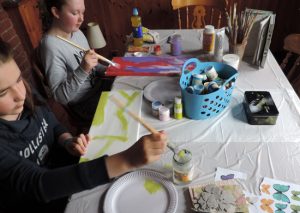 This morning's class was fun, Eva and Megan love art and are very sure of their colour choices. They were in the first kids class I taught four years ago, they still have the aprons we made!
We used 20 x 5″ stretched canvases, and introduced some new products such as heavy body acrylics, Mod Podge and Gelatos. If you've used these you know that the Mod Podge acts as a sealant .When you add Gelato on top you can move it with your fingers or a wet brush, so you can shade and blend colours.
Here are the paint layers.
  .
Time for some detail.
The girls used Gelatos to shade the features of the faces and to add tone to the hair.
The finished pieces.
I love how they turned out! It was a pleasure as always to spend the morning with these two.
Thanks for coming girls.
Felicia xx