The perfect gift.
Last week I went to the Craft Makers gallery to drop off some artwork. I am wrong to call it a gallery, it's more than that. As their website says, it's a craft store, gallery, workshop and studio. Their ethos is wonderful, make, learn , buy.
"At Craft Makers we follow a Make Learn Buy philosophy… we encourage you to make craft as we believe it is good for the soul; we offer you an opportunity to learn about craft making in our workshops and courses; we offer our customers a wonderful store and gallery in which you can browse, buy or commission work by craft makers from all over Kerry and beyond."
If you're looking for the perfect gift you will find it in the beautiful corner building on Ashe Street, Tralee, Kerry.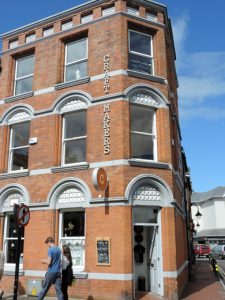 Deirdre Enright is the very welcoming manager. It was extremely busy the day I visited so whilst Deirdre dealt with the customers it gave me a chance to have a good look around. These were only a few of the photos I took…
Jewellery by Amelie Gagne.
Hand sewn gifts by SwinkyDoo
Scented candles by Fleur Daly – The top one actually smells like a turf fire!
I love wood, so when I saw this I may have swooned a little! Made by Gary Marcham of Goose Island Workshop, it is a work of art.
More wood… This time by John Murphy. Isn't it beautiful?
Skellig Pottery – such happy pieces.
Then of course there was the paintings….. I think they will have to be a post of their own!
This is the lovely Deirdre – Call in and see her, I'm sure you will find the perfect gift to give to someone and maybe a gift or two for yourself!
Felicia xx