Whats for dinner?
Here is a really quick, totally delicious dinner that uses up all the leftover veggies in the fridge.
It tastes amazing and you make it from scratch. No jars of sauce, so you feel even healthier eating it!
Did I come up with this recipe all by myself?
No. I took it from Jamie Oliver, Jamies's 30 Minute Meals to be precise.
As much as I love his recipes, this one has evolved to suit my family over time, so that's the version i'm sharing with you.
So, Whats for dinner?Thai Veggie Curry.
( I realise that this is not the most amazing food photo you have ever seen. However, if you could smell it cooking you would forgive my lack of photo skills!)
Here is the recipe:
Ingredients:
2-3cm of ginger, peeled.
2 small red chillies ( adjust to suit you spice level!)
2 cloves of garlic, peeled.
4 dried lime leaves.
1/2 a jar of grilled peppers.
1 heaped tsp of tomato purée.
2 TBSP of soy sauce.
1 tsp sesame oil.
1 can of coconut milk.
Veggies of your choice – I use, mange tout, spring onions, green beans, mushrooms, red and yellow peppers, broccoli and asparagus.
Cashew nuts.
Rice of your choice. I used Jasmine infused Basmati.
Method:
Put the ginger, chilli, garlic, lime leaves, 1/2 the jar of peppers, tomato purée, soy sauce and sesame oil in a food processor. Blitz it into a paste.
I get the jars of peppers in Aldi . They are in their 'Anti pasti' section, which is above the pizza freezer (that's assuming your Aldi is laid out the same as the one here) if you find them buy two jars – they don't always have them.
Ok, put the paste that you've made into a large frying pan. Heat it gently and add all the vegetables. Cook gently for about 5 minutes, add the coconut milk. You might not need a whole can, it depends how much sauce you like. Let this gently simmer for another 10 minutes – until the vegetables are cooked but still crunchy.
Meanwhile, cook your rice. I have a rice cooker and my mum had a rice cooker so I have no idea how to cook rice without one! If you add a jasmine tea bag to the water it tastes delicious though.
And voila!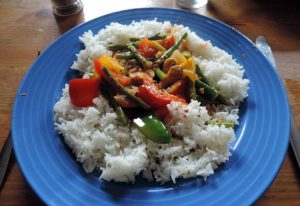 I suppose you could add chickpeas to the curry for protein – I usually just throw in a handful of cashew nuts in instead.
If you have all the ingredients in the larder this is super quick, cheap and delicious. Enjoy & let me know if you try it.
Felicia xx