Altered Household Item Swap :
Good morning,
I took part in another swap organised by
Aideen
.  'An altered household item' was the theme.
My swap partner was Kirsty, we messaged back and forth for a bit and got to know a bit about each others likes – she sounds really lovely and I hope our paths cross somewhere soon!
I thought i'd be so organised and I would video this project as I went along ( I blame all those home renovation shows i'm addicted to – I was going to be the Joanna Gaines of my own art room!) well, it started off OK……. then I just got into what I was doing and forgot to film it!
Here is the bit I did film : FEEL FREE TO SKIP OVER THIS IF YOU DON'T WANT TO HEAR ME WAFFLE A LOT!!
(You should know that I am not even slightly technically minded. I got a fab little Flip camera for Christmas about four years ago and I have yet to even think about learning how to edit videos – I should because its a great little gadget.)
Right, so after I took it to pieces I painted the whole thing with metallic copper acrylic paint. (This is what gives it the shimmer Kirsty!)
Because I was painting onto metal you could really see the brush strokes, so to hide these a bit I covered it with a layer of Distress Collage Medium with a 'crazing' finish. Then I thought it was a bit too coppery so I add some Titanium Buff acrylic here and there just rubbed in with my finger.
I covered the outside with a strip of paper from the Prima Vintage Emporium collection and buffed some of the paints over it so it blended in.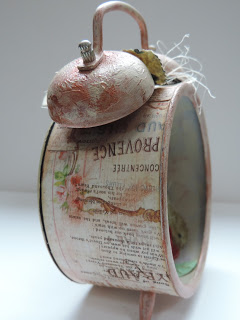 Then glued the face of the clock to the back cover and added the hands which left a lovely big frame to fill.
Here it is! Filled with flowers, ephemera, leaves, butterflies and some fibres.  Sitting half way, I used a 3×4″ notecard from the same collection. I tore it up a bit, inked the edges and glued it in place. This provided a 'wall' to lean all the flowers against.
The hanging charm ( I think it was from 7 Gypsies) was hung from a ribbon and secured with hot glue. I added the 'Memories' from the print on the papers.
The hot glue on top was disguised with more flowers, leaves and fibres. ( Didn't take a photo of the top…)
 I love swaps, it was fun to make and most importantly, Kirsty liked it – Happy days!
What's the next swap theme Aideen????
Have a lovely weekend,
Felicia xx