Lazy Sunday Afternoons…
Its Sunday. Actually it is not completely lazy. I love Sunday mornings, my family are either up and out early for work or they sleep in. The house is quiet, even the dogs sleep in. I get up, stay in my P.J's (that is most important for maximum enjoyment), make coffee and then spend at least an hour on Pinterest or YouTube….
Oh, the absolute luxury!!
I have an obsession with home renovation shows, I have recently realised that although I can't get HGTV in Ireland I can watch 'Fixer Uppers' on YouTube to my hearts content!
 I love Chip & Joanna Gaines, I want to build a farmhouse like theirs, I want to make houses pretty. They live in Texas so there is the added bonus of cowboy boots. (Another love of mine, always, even when they aren't in fashion – much to the horror of my very stylish kids!)
If you look at my 
Pinterest
 boards you'll find a fair amount of house related content, grey painted rooms & bathrooms that are just yum, there are also boots (in '
My Style')
 lots of rings and bracelets (in '
It's a Bling Thing')
 and items of general gorgeousness. You can also see '
Yes, I like Cleaning
' – but that for another post. Its easy to see how my Sunday mornings just vanish.
But, I did go out and do a bit of a walk / run at Cardiac Hill – its called that for a reason, its not easy but having climbed up you get to run down which makes it all worth while. I didn't take any photos today. I left the phone in the car. When I got back I was sweaty and red, no one wants to see that!
Now its 3pm, Ireland are playing France and although I can hear it on TV I'm not really one for football (I am of the Guy Martin school of thought here). So I'm in the art room and have just finished making a necklace. It has taken me ages (being the digitally challenged sort that I am) but here it is in the making: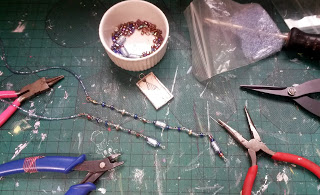 And finished:
So, that is my Sunday so far. At some stage I will take the dogs out but nothing more energetic than that. Sunday dinner is usually omelettes. Open the fridge and use the left over veggies and make omelette. There could possibly a glass of wine too ( who am I kidding, of course there will be wine!)
I hope your Sunday is as nice as mine. I hope you get to enjoy whatever it is you like doing.
Felicia xx