Polly Dolly Cushions are here!
Thanks to the amazing people at Pixalili in Donegal, I now have a lovely range of hand sewn cushions.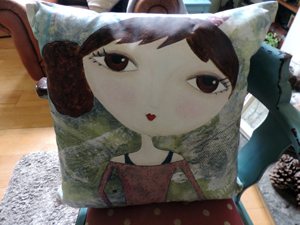 Measuring 50 cm square, they are made of 100% cotton with a polyester pillow stuffer inside.
The backing fabric is a lovely duck egg blue cotton…. they are such amazing quality, I'm so impressed with the way they have been made!
At the moment I have three different designs, Pink Polly, The Bride & Groom and The Travelling Boy.
I like to think that each of these little characters has a story of their own. The Travelling Boy, is bravely exploring the world in his Land Rover. In the background of his cushion you can find maps and a compass  – very important for adventuring!
The Bride & Groom, are madly in love, they make each other laugh, respect each other and will always together.
Pink Polly is a little fairy, you can just see her gossamer wings. She likes to cast spells of bravery and confidence on those around her, believing that we can all achieve our dreams.
If you think any of these cushions would be a perfect gift for someone in your life ( or maybe you want to treat yourself),
just click on the names under each picture. This will take you directly to my Etsy shop where you can see all the details.
I have ordered two more designs, which hopefully will be here soon…..
They will all be coming with me to Art Source at the RDS in Dublin. I'll be there from Thursday 8th to Sunday 11th November, stand A55, so if you are visiting come and say hello.
I have also been painting away to make a new collection for Art Source, It features quirky houses, which is not really a big surprise is it?!
I will try to get some images up soon.
Enjoy whats left of the Bank Holiday,
F xx