First Birthday Present.
When I dear friend asked me to make her Granddaughters first birthday present, I was quite chuffed!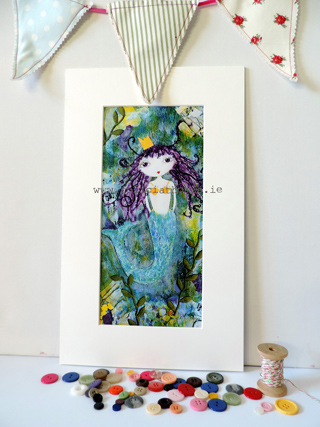 Purple hair, don't care!
She chose the Polly Mermaid print, of all of the Polly Dollies I think this is her favourite.
Originally she wanted a purple frame. But having looked at lots of different shades, she chose a pale green. So, tomorrow I will go the Killarney Framer to pick out the frame. John who owns the business is really helpful. I'm hoping he can make the frame but let me put the image in myself – that way I can paint the frame just the right shade.
A painting for a first birthday is a lovely idea. She will always have it, she won't outgrow it, it will always remind her of her Grandma. That's kind of sweet don't you think?
Felicia xx
p.s. How is this year going for you so far?
Mine of is full of learning new things and taking cider vinegar everyday….. i'll let you know how it goes!