Quilt update.
Remember that quilt?
I'm pretty sure my last blog post said something like," Tune in next week for an update…"
well, here it is almost a month later!
I actually did finish it within that first week, of course you'll just have to take my word for it, but I did.
But here it is!
(That chair was once teak with a really rotten gold draylon seat cover – but that's another story).
The pink velvet was perfect as a backing. It's so soft!
Aren't they the prettiest colours? Tilda fabric is just lovely, I got mine from the Crafty Fox  but i'm not sure of the name of this particular collection.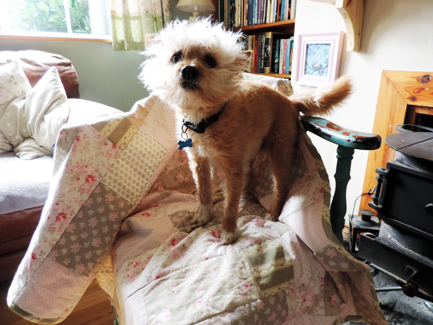 Toby has declared it suitable for cuddling up on. He likes to burrow underneath of it so he can sit on the velvety side. I could try and keep him off of it, keep it 'for best', but along with everything else in this house, it was made to be used.
What else has happened since my last post?
Well, last Sunday I was at the Airport hotel in Cork for the Cloggers event. Marie and Shell put a huge amount of work into these events and I was really pleased to get to one. Cloggers are a group of bloggers in the Cork region ( I think it covers most of Munster) they blog about many subjects from fashion, make up, lifestyle & healthy eating to Horror themed books! 
As usual there were a great bunch of people there with some lovely stands.
Ebony and I put our work together for this one:
I happen to think this little rabbit is the cutest thing in the world!
(Available from The Little Things Company)
So, that has been my month, thank you for stopping by!
F xx