It has been a wild and stormy weekend here, perfect for making soup (Mary Berry's butternut squash soup, which was even nicer the next day*) and then locking myself away in the art room (that sounds very grand – its not, its a lovely 8x10ft room where we keep and do anything art related.)
Anyhoo, I did a couple of tiny 5×5″ paintings with a 'Home' theme and then I did this.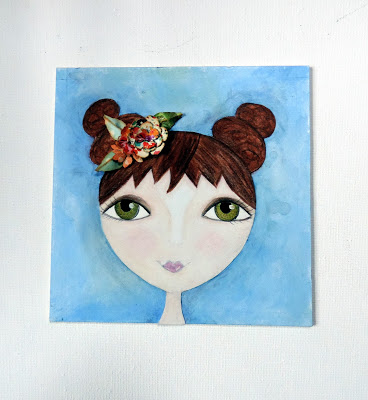 I haven't painted a new doll for ages, mainly because it takes forever since THAT FATEFUL DAY, but eventually this one appeared, again it is 5×5″ but now i'm thinking she needs a sentiment. I think she should say something positive, something to remind anyone who sees this that they are enough just as they are.
I think I like this one, "Believe in you" because self doubt is a bitch.
I stamp them out on paper so I can move them around and make sure i'm happy with the positioning and then take a leap of faith and stamp permanent ink onto the picture – which is a pain if it goes wrong because then I have to try and paint it out.
Right, its still blowing a gale here, storm Imogen has a lot to say. I have to venture out to the Post Office (to post my Valentine swap, which I will show pictures of once Kay has received it) and to walk the dogs then I will be brave and add some lettering.
The * in the first sentence is a disclaimer….I didn't actually make the soup, Tim did, I just watched. Thank you Tim! x
Have a great week,
F xx