Deliciously Ella's Chocolate Brownies.
Chocolate has always been my downfall. It's one of the major food groups right?
But in an attempt to become a little healthier (and cut out the migraines) I have turned to this lady.
I must say I was skeptical, I really couldn't believe my sweet tooth could be satisfied without chocolate or sugar…
Ella put this recipe up on her blog. Having convinced myself they would be awful I made them to find out.
The main ingredient is sweet potato….
Once the sweet potato is steamed you blend it together with the dates.
The list of ingredients is fairly straight forward – I got everything except the almond butter in Aldi.
The recipe doesn't say what size tin to use. I used a 23 cm square, lined tin which worked just fine.
When they have cooled add the icing and cut into squares.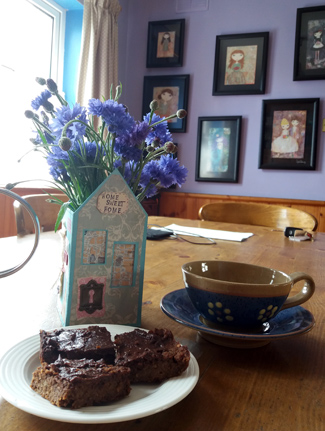 All that's left to do is make some coffee and have a taste test…… do you know what? they are actually really nice!!
Because of the maple syrup they probably aren't very calorie friendly, but they are a very tasty, healthy sweet treat.
Thank you Deliciously Ella, I will definitely be making these again!