Home is the Nicest Word.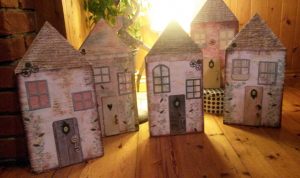 According to the dictionary it means, 'House or other dwelling'. To me it means love, family, comfort, safety, coziness.
I am a home bird. My favourite place to be is home. Going on holiday is fabulous, but the day we're returning i'm frantic to get back . It's where my kids are (sometimes) & my dogs are. The word 'home' makes me happy.
It comes out a lot in things I make. There seem to be wonky roofed houses popping up everywhere- cards, paintings, notebooks, even necklaces. They make me smile, so I keep making them in the hope that they make someone else smile aswell! The obsession extends to real houses too, but until I get to build my dream home (a four bedroom bungalow , sounds fairly ordinary right? wrong- It's going to freakin amazing!!!) I'm just making imaginary ones.
So, after making notebooks and painting pictures I moved on to wood. These houses are beyond quirky, they have been personalised with house numbers, family names, initials, but each one is made to bring a little magic into your home.
This one stands on the hearth in my sitting room, its 22″ tall and is nothing if not a conversation starter!
This one is available at The Beach House gallery in Dungarvan.
And you can find this one in Craft Makers, Tralee.
(Here is Miss Boo photobombing my house picture!)
I hope to have them on my Etsy shop soon, so if you want the perfect 'new home' gift for a friend or something made just for you and yours, you know where to come!
Felicia xx