Quirky? Me? Surely Not!
I do like a bit of quirky. Quirky fashion sense, yes.  Quirky home decor ? (there are big polka dots painted on the kitchen walls) so yes. Quirky books… LOVE!!!!
I belong to a book club, we have been meeting for eleven years now so we have read a huge amount of books.
Some of them have been scary, some adventurous, a few romantic and some sad. But I have a particular love for the odd ones. Here are my top five – i'm sure there are more , but these five stick out in my memory.
In no particular order
(As Dermot O'Leary might say!)
Behind the Scenes at the Museum by Kate Atkinson.
I have seen at least seven different cover designs for this book – why so many?
The next book is: Going Loco by Lynn Truss
Fantastically and superbly weird! That would be my review of this one. I highly recommend it. Actually I think I might have been the only one in Book Club who liked it, but give it a go anyway.  I found four different cover designs for this one.
Then we have The Little Paris Bookshop by Nina George.
All book shops should be renamed 'Literary Apothecaries' in my opinion. A book to cure every ailment, isn't that a beautiful idea?
We also have, A Man Called Ove by Fredrik Backman
I was so fond of this character, he reminded me very much of another grumpy old man I know…
The last one is a bit different, it is The Night Circus by Erin Morganstern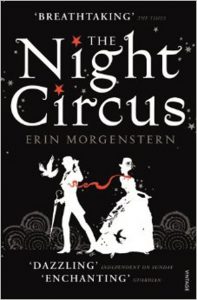 It is the first novel by this author and I am really looking forward to the next one. It conjures up the most amazingly colourful images. It's one of those books that you don't just read, you climb into it and live there for a while.
If you read one or two (or five) of these suggestions and like them, then we might just be the same kind of quirky.
It would make me very happy to know there are others out there – think of all the book titles we could swap!
Felicia xx