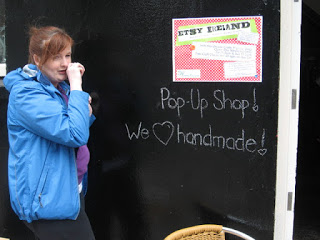 Last Sunday I went to Limerick to see the Etsy Ireland Pop-up shop. It had been opened for Saturday and Sunday and Ruth
had sent an email to the Etsy Irealand team asking them to send their work to her and she would display it……….. can you imagine how much work that was?? she is like Superwoman!!
So, off I went on Sunday with some prints and magnets to display, while I was waiting for it to open I met Rebecca who makes fab cards- this is her adding her artistic touch to the outside of the shop!
Now, as the sign says its "open this weekend only" but – great news! the owner of the bar (Bourkes Bar in Catherine street) where the shop has "popped up" has very kindly extended it to a month!!!! that means that every Thursday, Friday, Saturday and Sunday for the next month people will be able to buy a huge variety of handmade items.
You all know how much I love polka dots – especially white spots on red background…… look how Ruth decorated the space!!!
So, with any hope there will be sales and everyone will be happy, and shops like this might pop up more often!