This post was originally titled Monday – but the day past in a blur and it didn't get finished so i'm starting again!
I know I said I would post a video of the Crafting Ireland mini but I filmed my Halloween mini and then the battery died and the recharger isn't here ( and so on and so forth!) so that is my excuse for not having it up! I think I will fill it with photos first, it looks a but bare at the moment.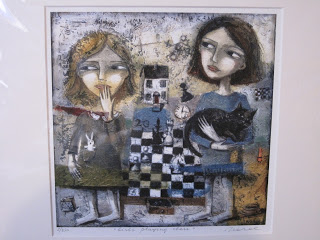 When we were at the Art Show in Dublin last Friday I was totally bamboozled by all the art. The styles were so different there was definately something for everyone, it was funny to listen to peoples comments and hear what they could see in things that there companions couldn't. I was drawn to many different styles but I couldn't resist this "Girls playing Chess" by
Ludmila Korol
. It is off to the framer tomorrow and then will hang on my wall ( i'm not sure where!) I love the detail in it.
Everyone has gone to school or work and its just Toby and I at home, its quiet other than the radio and I have tonnes of things to do. All of which make me a very happy bunny! I'm sure it wouldn't suit everyone and maybe i'll get bored eventually but at the moment I am loving being a stay at home mum/ domestic goddess/ artsy crafting nut!
Ok, the laundry is calling (yes I know, i'm weird, I like doing laundry…)
I hope you all have a lovely day! F x