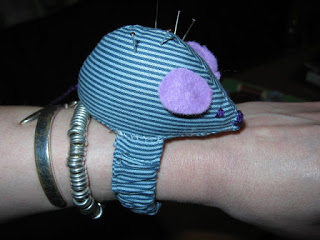 I showed some little mice on my laptop keyboard on facebook yesterday – it was a lovely quiet Sunday afternoon and I had a notion to make something…. so out came the fabric scrap bag!
Many years ago, when I was about 10 (many, many years….!) I made a mouse pin cushion. It was made from a scrap of yellow Laura Ashley fabric, had pink ears and embroidered eyes, it also had a piece of elastic that made a wrist band.
So, yesterday when I was making these little guys, I decided to add some covered elastic to form a band – you wear it on your wrist while you're sewing and your pins are always to hand!
My yellow mouse has disappeared (quite recently actually…. around the same time my eldest daughter left home……?) so I may have to keep one of these, the others (ten so far) will be making an apperance at the Malton Craft fair this Sunday.