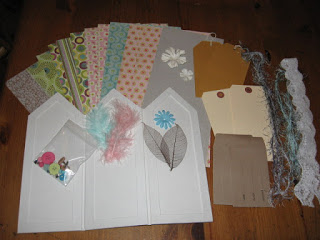 How are all my lovely swappers?!
Here are the goodies that are going to one of you this month – there is loads of paper, its Penny Lane by My Minds Eye, vellum, grunge paper, tags, more tags, coin envelopes, lace fibres, prima flowers, feathers, skeleton leaves, buttons, brads and bling – oh, and a tri fold frame from Bare Elements to stick it all to!
How are you getting on with your minis? have you all heard from your partners? if you have any questions, leave me a comment and i'll get back to you soon.
Today is the Crafty Alley Dublin crop – I hope you all have a good day ladies, you never know there might be some visitors from Kerry at the next one!