About a year ago I started this project, and today I found it in the draw and decided to finish it.
Its made from two wooden heart cut outs that I painted with silver acrylic paint.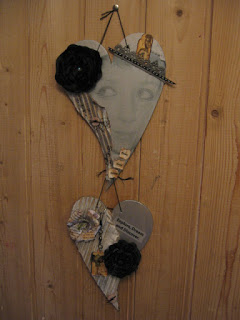 I printed a photo of my daughter onto pearlised tracing paper to give it a ghostly effect (it was an experiment and she hates the photo I used, but it would take another year for me to get around to doing another one!) I stuck it on with Mod Podge along with some corrugated card that I painted with silver dabber.

Then I added some lace, silk and paper flowers and some ephemera from the SteamPunk Debutante collection.
And finally, after a year of sitting in my "to Finish" draw, its done!
I heard someone describe it as "the scrapping graveyard" – What projects do you have lurking in yours???