I firmly believe that you should do something that scares the life out of you as often as possible. That way, that particular thing won't be scary anymore – or maybe it will scare you so much that you know not to do it again! but at least you will know and not spend your days wondering about it.
So, because of that, when I was offered another job – soooo far out of my comfort zone – I made the decision to leave the job I love, and give it a try. Yesterday was my last day at the Crafty Alley Shop, and I just want to say a huge Thank You to everyone who made it such a lovely day – but especially Cathy.
The celebrations started with a tea party at the Craft Club…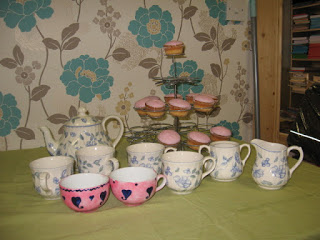 Which quickly moved on to Champagne and strawberries! – we do things in style around here!
And ended with Cocktails – mostly (well, some!)non alcoholic – but very enjoyable all the same!
So, a very big thank you to Mary, Ann, Josephine, Laura, Ebony, Clare, the new Clare and Cathy for such a nice send off!
Tomorrow I start my new adventure – it could make for some interesting blog posts, but for now I'm enjoying a day at home pottering around and getting some crafting done.
Enjoy your day,
Felicia xx