Well, you know I was mad to place my first Scentsy order – I chose my burner and then spent ages going back over the samples to choose my smellies. The catalogue said the fragrances came in packs if three, so I was thinking (like most other things you buy) that was three packs of the same scent. Hmmm, choosing one I liked that much was prooving tricky, so I rang Aideen and she told me I could pick any three and so the dilemma contined!
Did I mention how odd about smells I am?
I absolutely hate artificial smells – fabric conditioner is totally banned in my house, the smell of Juicy Fruit chewing gum is enough to send me over the edge,so I was slightly doubtful that I would like any of these.
However, I found three I really liked and placed my order on Sunday.
Then I wondered how long would they take to get to her, and then she would have to post it to me, and how much would that cost? All the time dying to test these things…
On Thursday I came home to find a lovely big Scentsy box on the table!! the cost that you pay includes direct shipping and I was really surprised how quickly it got here. 🙂
My burner is much prettier than it was in the catalogue, and it has lights (I thought I had ordered one without lights) but this has turned out to be a good thing because it means I remember to turn it off!
Here it is sitting on my little table in front of the book shelf – I chose to burn the "Simply Basil" first – I wish this was a scratch n sniff blog because it is sooooo delicious!!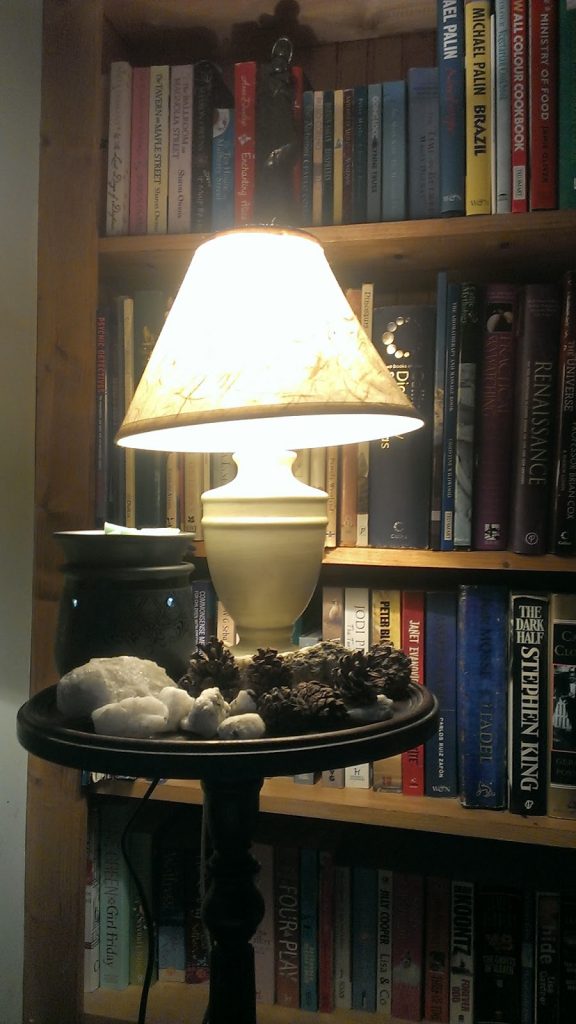 Told you it was pretty!
I have had this burning everyday since I got it and I don't notice the wax going down yet (when I say burning, I mean heating – there is no flame so its safe to leave on all day) I think it will be more cost efficient then scented candles.
I'm still waiting on the Scentsy fairies to tidy and organize my house….. perhaps they come in a separate delivery??!!
xxx