Last year my Mum was on holiday in Kent and brought me home a colour chart for Annie Sloan Paints. The chart was actual blobs of paint so you could feel the texture, it is a chalk paint so it has that smooth but super mat texture to it, and it paints onto anything, wood, metal, concrete, plastic with NO UNDERCOAT!!!
Anyhoo, off I went Googling distributors in Ireland, there are quite a few, the problem was that paint is heavy so the delivery charges were mad so I gave up on this idea for a while……..
Then last week it was Himselfs birthday so we went on a bit of an adventure to Clonmel. I'd never been there before, so I did my usual tour of a new town scouting out the coffee shops, book shops and what I call "quirky" shops.
I was stopped in my tracts by a beautiful pale blue bicycle with flowers in the basket parked outside Forget-Me-Nots it was indeed quirky! and guess what they sell? (amongst other lovely gifty bits) Annie Sloan Chalk Paint!
Although I had spent much time drooling over the colour chart I couldn't choose a colour. After much deliberation I chose Louis Blue….. only to discover they were out of it so I chose Provence instead. (its a lovely bluey green, where as Louis blue was more bluey grey)
I can't believe I didn't take a before picture! This chair was my Nanas, it is solid mahogany and had a hideous gold seat (thats it thrown in the dogs bed there!) I thought for ages about painting it because I really didn't like it as it was, but its really old, in the end finding the paint was enough to persuade me!
So here it is after 2 coats of chalk paint.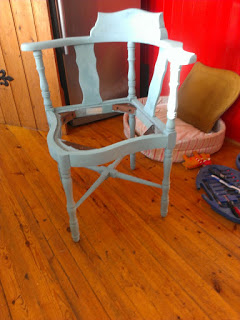 I gave it a coat of spray on wax and then a good coating of soft Briwax to protect the paint.
Then I got a remnant of Cath Kidston fabric from my stash and went to work with a staple gun….
As you can see Toby likes it!
So that is my chair, I'm not sure my Nana would like it but I will enjoy it much more!!