I don't say this often, but I think this is my favourite paper line ever!
I am very fussy about which new paper lines I actually like, I don't like them too twee, I don't like them too pastel or too bold, usually I prefer to buy individual 12×12's because I only like half the designs in a stack (told you i'm fussy!)
But I love, love, love every paper in this, and i'm about to ring the shop to save me another pack because I think I need a "spare"!
This photo isn't great, its a bit dark but look it up – its fab, fabby, fab!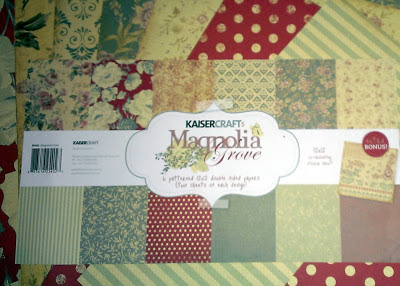 I used it to make an altered diary, my aim this year is to be more organised so a pretty diary will help (I hope!) Here is a sneek peak…..
You are only getting a sneek peak because this is my project for next months Scrap 'n' Yap. I was delighted to be asked to teach it, it is on Sunday February 3rd at the Cork International Hotel (I think thats what its called, its the big one at the airport) I will put up more details when i'm sure of the time etc.

The day before Scrap 'n' yap, I will be in Dungarvan co. Waterford with the lovely ladies over there for the first Scrapzville craft class of the year.
There will be a couple of mini layouts, I'm liking these recently, quick and easy but all together they look great, and a couple (or three or four) cards. Lots of paper, embellishments and pretty bits.
If you're anywhere near there and would like to go, let me know, its from 10-4 and the kit costs €32.
Again, not a great photo, but these papers we will be using for the class.