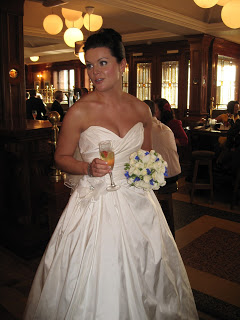 This is my friend Mel, she married Donogh on Saturday. It was a beautiful ceremony and a great day, didn't she look lovely?
She had asked me to paint her a "Wedding Tree" which I did, it was set out on a table in the reception room of the hotel with ink pads, wipes ( for cleaning fingers) and pens to sign it with.
At the end of the night, this is what they had! I will have it framed by the time they get home from honeymoon and they can have it as a memento of their day.
P.S. – I wore a strapless dress to the wedding, and I was thinking I didn't want it to fall down when I was dancing so I used Redline tape across the top to stick it in place………. that dress didn't move, even twelve hours later when I tried to take it off!!! there is still a red stripe across my chest today, so be warned!