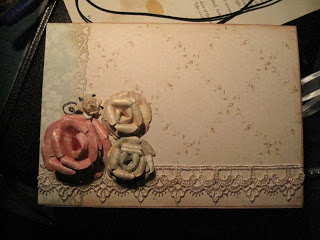 We had a lovely Christmas this year, very peaceful and relaxed. My parents came for dinner, which was delicious and too big, and the evening was spent playing "The Million Pound Drop" boardgame and drinking wine.
But now its that strange week inbetween Christmas and New Year, I never know what day it is during this time! its a completely relaxing week, the kids are still off school (till the 9th, I wonder will I be so relaxed by then?!) and I am getting muchos crafting time.
This mini album is for our next door neighbours who have just had a little girl, Caoimhe, I need to make some more tags and then deliver it. I used Graphic 45 Baby to Bride paper – love it, its so feminine!
I got my hands on a Tim Holtz pocket watch, it is the coolest thing! this is what I put inside it today, but since you don't have to seal it permanently you can make lots of differnt inserts for it……. ingenious!
Now I have to finish a commission that must be ready for New Year, its an A4 diary for Karen of
Swinkydoo designs
she said I could do anything I wanted but that means I keep changing my mind! I think i'm decided now though.
What are you all up to this week?????