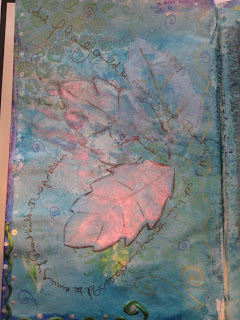 Issue 6 of Crafting Ireland is out this morning ( you can read it by clicking the link in the previous blog) but here is a close up of the finished pages… dont' you just love Perfect Pearls???!
The printing onto organza gives a ghost like quality to photos, I love the way it creates another layer. There are so many projects in this issue, the recipe book is calling me in particular, but then so are the altered baubles – displaying them in the glass jar is fab!
I have been missing from my blog for weeks….. its been busy around here! there have been fairs every weekend but one of the best nights was at the Art and Wine night which is held by the Rotary Club in Killarney every year. Its a great fund raiser, because they have so many artists they set out the room with these metal grids, that way everyone gets "wall space". My Polly Dollies got a great reception, thank you everyone who stopped by for your kind words.
This week is busy again with making stock for next weeks craft fair in Kate Kearneys Cottage in the Gap of Dunloe, putting up the tree (finally) and I suppose i'd better do some Christmas shopping.
Have a great week, x x x