Even though she has just had a baby girl, Aideen from Aideens Swaps organised a Halloween swap. You had to make some sort of trick or treat bag (s) fill them with treats and send them off to your swap partner.
So lets see – you get to craft Halloween stuff and you get chocolate? of course I signed up!
First of all I made a card, this was Graphic 45 Steampunk Spells from last year.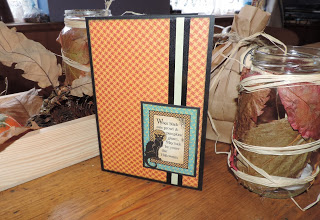 I got the witches legs from a friend who cut them with her Craft Robo (credits here) Thank you Kay!
The broomstick bag is full of goodies, and the black bag has a scene made from Graphic 45 Rare Oddities paper. I'm not a huge fan of fussy cutting but this paper line makes it easy!
I put a battery operated tealight into the bottom of the bag to light it up, but of course I didn't take a photo of it lit.
I am waiting for the parcel to arrive before I post this – Sabrina got it today, I can't wait to see what she has made, thank you in advance Sabrina!!
I love swaps!!!