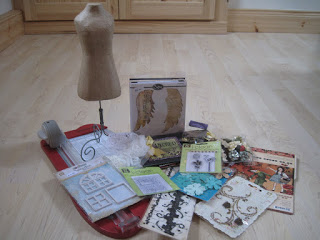 So, there were shops………. many of which (thankfully!) didn't take credit cards, however there was a cash machine in the shop next door so my willpower was restrained only a little!
The only thing I actually needed was a new paper trimmer which I got from Kerrys' shop, An Siopa Bui. Kerry is the organiser of the whole event and seemed to glide through the whole weekend without looking flustered – well done Kerry!
I missed my last class as we had to leave early but Mandy kindly sorted out a kit for me. I was really looking forward to this one as I haven't caught the dress form bug yet, but I was sure I would when I took Mandys class. There were a whole lot of book pages and some decoupage with this to cover the dress in but they have been eaten by my desk and couldn't appear in this photo!
Then there was the Crafty Queen herself, the lovely Eve Louw, the kit for this mini book class was full of goodies, flowers, bling, lace and the Graphic 45 Magic of Oz 8×8 paper stack. As usual time flies when you're enjoying yourself and this two hour masterclass passed in the blink of an eye!
These window frames are Shabby Chic Treasures from Prima – love them! they are definately going into a Polly painting at some stage.
Now i'm off to play with my new goodies!!