The Great Big Craft Extravaganza starts tomorrow!!
We were asked to bring name badges, so this is mine……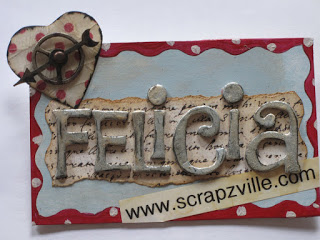 I am supposed to be packing my craft supplies and choosing clothes, but I am the worst packer in the world! I always leave it until the very last minute and I am the only person I know who never brings enough clothes with me…….. ( I blame Mr. RyanAir and his luggage restictions for that!) but since we are driving to Athlone I can bring as much as I like.
I've never tried to pack my craft stuff before, it proving quite difficault! exactly how many distress inks should I bring? will I need stamps? and if I do, which ones? As they say "its better to be looking at it than for it" so I think i'll just bring everything!
I recently got a pot of UTEE and now everything is being enamelled and cracked….. I know, years behind!