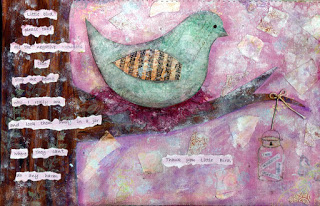 I made this page in my art journal – I like the way it came out because I rarely use pink. The tree is stamped with leaf designs and the wording says,
" Little bird, please take all the negative thoughts that stop me being who I really am, and lock them away in a jar where they can't do any harm"
In the jar are the words, anger, self doubt, impatience and fear – I liked the idea of the bird flying around picking up all those words , flying back to its nest and locking them away, how it does it i'm not quite sure… what with wings instead of hands!
I hope you have a great week and that your little bird is keeping an eye on you!