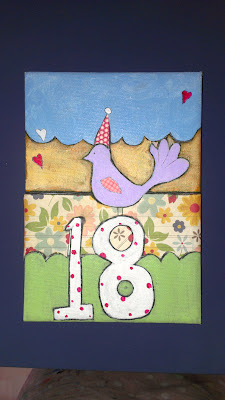 For Mollys 18th I painted her a little 4×6 canvas instead of making a card, she liked it and says she will be taking it off to her new college apartment with her.
I suppose I had better find a frame for it!
We had a lovely dinner at the local Thai restaurant, Zac brought a friend, my Mum came, Tim and I and Ebony and Molly with their BOYFRIENDS……… hello?! I know they are now 21 & 18 but when did they get this grown up? (the boys are both lovely by the way and seem to be patient enough to put up with those girls!)
It seems to me that although they are both plastered all over Facebook by friends on nights out, if I produce a camera they hide….. so this is one of the only birthday shots I got of Molly!
Happy Birthday Molly! xx