This week we celebrated Tims birthday by taking a night way in west Cork. Now when I say "celebrated" I mean, I did because Tim is having another Bah Humbug moment! He is very good at making a huge fuss of me for mine, but prefers for his to pass un-noticed.
No Chance!!!!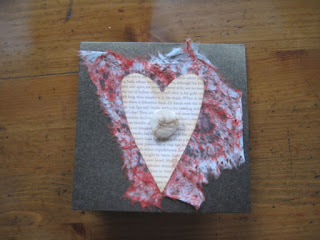 I made him a card – why is it so hard to make cards for men???? which he liked and on our way to Clonakilty we visited Lough Hyne.
We will definately be going there again in the summer, its a great spot for canoeing. So, after cards and presents and cake and a lovely day, he had to admit that birthdays aren't that bad after all!
What else? yesterday I went to a craft class at the Crafty Alley shop – we did 12×12 layouts, i'll post those pictures later. The papers were fab, Lost and Found from My Minds Eye, and it was lovely to see everyone again.
Thats all my news this week I think – I'm working on a new Polly painting, which i'll show you as soon as its done.
Byeeeeeee! x