Planner Review – Episode 2.
Hello again, last week I looked at the Filfox, MAMBI, Erin Condren and Kate Spade planners. Today I have four more, you might not have heard of them all, but I thought they had enough good points to review them.
This first one is called the Ban.do Classic Agenda. Nope, I hadn't heard of it either but it is a whole world of colour, positivity and fun!
I will say I have discounted this from my search for being ( I can't believe i'm going to say this, i'm so old!!) too young. However, it would be a perfect gift for a teenager. It comes in two sizes, the medium measures 6 1/2″ x 8 1/2″ which costs $28 and large which measures 8 x 10″ which costs $32.
As you can see it has a month on two pages layout with note space. Laminated tabs, a ribbon page marker and elastic closure. It again is a 17 month agenda, so perfect for the school year. Whats really nice for teens are the little compliments that adorn the pages, there are doodles to colour & loads of stickers. You could go a bit mad on the accessories too!
Ban.do offer loads of different covers (which can be personalized with your name for an extra $5) but its the shipping that makes it a big purchase. The medium planner would cost $38 to ship from Kentucky and again there is import duty. But guess what? Those lovely people at My Shining Armour have a selection of them on their site. You won't get to personalize them but how bad? for between €27 – €37 and minimal shipping you have a perfect gift for any teenage girl in your life.
Plum Paper Planner.
This one is my favourite so far – but of course its shipping from America so it makes it a big purchase.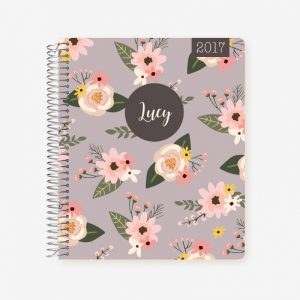 It's very Erin Condren like in layout and has a multitude of customizing choices. It measures 7 1/2″ x 9″ for the medium size, the larger one is 8 1/2″ x 11″. Whats really nice about this one is that you can choose to have anywhere between 6 to 18 months in it and you can choose when it starts! It has all the usual things like a strong spiral binding, laminated tabs and pocket folders, there are also a huge amount of add ons to choose from.
Of course these push up the cost but if you're going to get it you may as well do it right! The list of add ons include, a fitness tracker, budget planner, meal planner, home and blog planning to name a few, they cost $4.50 each.
It does say that the national holidays are on an information page, so I think you can opt not to have them included on the calendar. (Again, American holidays aren't much use to me). The paper weight is 120gsm so its pretty good quality, so far I like it all.
The postage to Ireland would cost $19.75 , which with 2 add ons makes a total of $58.50.
Plum Paper also have an Etsy shop, you can still choose all the options for add ons, layout, add your name etc but you don't get as many covers to choose from. The costs on Etsy are in Euro, so it would be €52.17 (that's  a medium planner, 2 add ons and shipping).
♥ PLUM PAPER HAVE VERY KINDLY OFFERED A DISCOUNT CODE TO ANYONE WHO WOULD LIKE TO PURCHASE A PLANNER! ♥  leave a comment if you would like me to send it to you.
Mrs Brimbles Printables.
So what if you want to make your own planner? well, there are lots of options available online to print your own inserts. You just need to have either a Filofax style cover or an A5 binder. Then you choose your calendar, dividers, to – do lists, checklists and anything else you can think of from and Etsy seller and print away!
One of my absolute favourites is Anna Brim, also known as Mrs Brimbles. Everything on her site is hand drawn, some are coloured already and some just outlines so that you can colour them. She has a particular love of rabbits… and bees…. and owls.  You can get a beautiful set of bumble bee decorated planner inserts for €8.49 which contains all of this:
About Me / Personal information
Address sheets
Birthdays / Anniversaries
Chore Chart
Diary pages (week per two pages)
Dinner Plan
Housework Chart
Lists
Meal Plan
Medication Chart
Notes
Quotes pages
Reminder pages
Sites and Passwords tracker
Spending Money tracker
To Do checklist
Wish list
That's a complete planner right there! of course you do have the expense of printing it yourself but that is still a really good deal. This way you get to choose the paper you use, I have purchased a few printables from Anna and found lightweight card to be perfect.
There are designs for all seasons and occasions, the best bit is once you have purchased them you can print them as many times as you want, so you never run out of pages. The calendar is not date specific so you can print a new one for each year (but i'd want to have another design by then!)
Finally, Paperchase.
Paperchase stock planners, inserts and every kind of stationery you can think of. I was in the Covent Garden shop over the weekend and had a good look at what was there. The paper is really good quality and what really surprised me was the size of the large planners. They measure about 8 x 9 1/4″, which doesn't look so big on a ruler but when its in your hands it's huge! It would definitely be something that would be left on your desk rather than be carried around in your bag. The standard size is 5 1/2 x 7 1/2″ which is the same as Filofax.
I of course did the same thing I have done in the past. I stood surrounded by planners and couldn't decide which one I liked. Then the voice of reason said, "what about your Filofax?" so I bought a calendar for 2017 (the holes are punched to fit Filofax or their own planners) just in case I decide to use it again next year….
If you look at there online shop  they have a sale on some planner right now. The personal size is £11 and would cost £6 for postage. There are also Paperchase departments in Dundrum shopping centre and Arnotts in Dublin. They have a great range but don't ship (even within Ireland) however, well worth a look if you're in Dublin.
So, that is the round up of Planners for 2017. I'm not sure if I've helped you make your minds up or just confused the issue more! I can't choose between the Plum Paper, Kate Spade or my Filofax…… I know, it's only September, there is no rush, I've had a feast of stationery shops this weekend and am now addled. On the great scale of things this doesn't matter at all, but its such fun choosing. As any other planner lovers will agree I'm sure!
Please let me know what you've chosen. I had a message from a friend to tell me Prima had a new planner out so there are more choices all the time.
By the way, I was in this shop yesterday but didn't have much time to look around as I was heading back to the airport…. probably just as well!
Felicia xx