Planner Review – Episode 1.
As I said in the last post, choosing a planner is a big deal. They can be pretty expensive, so you need to know you'll use it.  My first planner was in 1990, just as the Yuppy period was coming to an end I finally saved enough to buy a black leather Filofax. It is a personal sized Buckingham – they probably haven't made that style since then.
I still have it, last year I bought all the new inserts. I thought I would resurrect my vintage Filo, but the paper (even though expensive) is really thin and I find the personal size just a bit too small. So, back on the shelf it went, it'll probably be worth a fortune one day!
Then I moved onto Dodo Pads. Anyone heard of them? I had at least four of these, they had very nice paper and lots of doodles to colour.
Way back then they were spiral bound, now  they are punched for rings- but they are still around i'm glad to see!
So, what are the choices today? I have looked eight different planners, I will give you as much information as I could find on each. i'll just do four today and four next week. Go and make a cup of coffee and settle in, this could take a while!
Filofax –
These come in A4, A5, Personal, Pocket and Mini sizes. There are so many different styles with prices that range from about  €40 for a denim cover to € 179 for a top of the range leather cover. They are available in Easons, so you can have a good look at the layout before purchasing or at Filofax.com . Since you replace the calendar each year it is obviously reusable, and you can buy different add ons such as budget sheets, address book and note pages.
They are very smart looking planners, they have pockets for bits and pieces, a pen loop and card slots. I'm starting to wonder if my one deserves another chance?
MAMBI , The Happy Planner.
"The what?" I hear you ask. If you are someone who loves to decorate your planner then this might interest you.
MAMBI stands for'Me and My Big Ideas' , there Create 365 'Happy planner' has a lot going for it.
You can order either horizontal or vertical layout. It has a month at a view followed by a week on two page layout. The dividers are decorated and the tabs laminated. It measures approximately 10 x 8″ and the basic cost is $29.99. It also has '12 month kits' with different themes to allow you to have coordinated decorations, so sticking to the basic planner could be tricky! This planner covers 18 months which is ideal if you are a teacher or student, but it's not for everyone. There aren't any customizing options but there are quite a few designs to choose from.
The good things about this planner are really good, but here are the cons…
My big dislike of this planner is the binding. It uses a disc binding system, little plastic rounds that grip onto the pages. They may be fine, but I definitely wouldn't trust this planner in my bag.
It ships from California, the shipping cost is $46.50 (yes, you read that right) which is crazy! Bare in mind the dreaded import duty that we get charged on a lot of orders from America.
However, there is another way. While I was searching around I found a fabulous site in Surrey, UK. called' The Homemakery' they have a selection of Happy Planners priced at £29.99 with a shipping price to Ireland of just £8.00. No import duty, I would imagine the post would take a week at the most, so if you like this planner its a better option.
The Erin Condren Life Planner.
You knew it had to make the list somewhere! I think this is the most talked about planner of all, if you have a love of planners then you've heard this name. There are thousands of 'unboxing' videos on Youtube, it really is a craze that seems to be lasting. Okay, where do I start?
There are loads of cover designs to choose from. You can customize your cover with your name or even a photo (which I like)  It measures 9×7″ and is coil  bound (not spiral bound) this year the size of the coil has been increased to give more room for 'stuff'! You can have horizontal or vertical layout, you can add and take out sections, its colourful, the tabs are laminated, and it has matching accessories. It would take a while to put your order together simply because there is so much choice. Things like changing the colour of the coil to match your cover, or even using your own unique design for a cover are options but beware, the cost of the changes add up quickly!
The presentation when it arrives to you is really nice. It's wrapped in tissue and has notecards and stickers in the box. It's the little things that make it special.
I looked at a basic planner with no accessories and it was $55.00 and the shipping is $19.95 for 8-12 day delivery. The cost isn't actually as bad as I thought it would be, but don't forget the import duty. I could go on and on about this one, but there is no need – hundreds of Youtubers have done it for me!
Kate Spade Planner.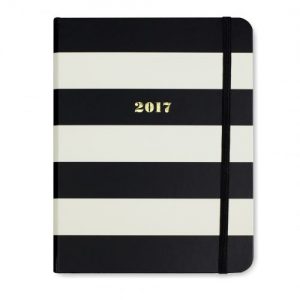 Forgive me while I swoon a little over this one! It measures 73/4″ x 6″ .  It is spiral bound within the cover,horizontal layout, the tabs are laminated, there are note pages (very important) and the public holidays are listed on a page and not printed onto the planner (excellent idea if you live in a different country). This one covers 17 months from August 2016 to December 2017.
I have a planner that last until this December, so is this a bit of a waste? Also, I think its very sensible, no colour, this one has a good chance of being next years planner, but is it a bit too grown up? (I may be an adult, but i'm not a grown up!) I'm also a little worried about the weight of the paper, the reviews of the 2016 edition claim the paper was too thin (the same problem as the Filofax).
Already i'm thinking, "you could change the paper", but that is why i'm searching for the perfect planner. Something out there must tick all the boxes right? Then the part of me that is in love with the cover is saying," you write in pencil, whats the problem?" –
Kate Spade = quality = expensive but  Guess what? I found an Irish source!  Nicki Hoyne from  'My Shining Armour' has this for €38.00 and since it ships from Kilkenny postage is only €5.50! (or €10 if you're in real hurry). It's also available in a larger 91/4″ x 71/2″ size that costs €46.00.
Actually, this site has some amazing goodies – if you sign up for the email list you get a 10% discount that you can use for jewellery or their pouches. I always say shopping online isn't really my thing… I may change my mind!
Right, that's the first four. I will be back on Tuesday with the rest –  and hopefully a decision on which one to order!
Felicia xx