Planner Decision.
After all the hours of watching planner reviews, checking shipping prices and being sorely tempted to have more than one, the decision was made and I finally settled on……. (insert drumroll here…)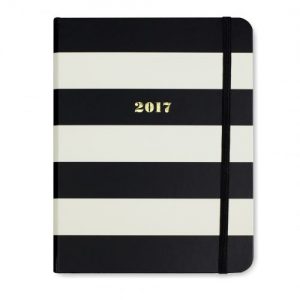 The Kate Spade medium planner. It was the black and white stripe that did it. The inside cover has black polkadots on a white background – what could I do?
I ordered it from My Shining Armour on Wednesday lunch time, it arrived by courier on Friday morning. Great service for a €5.50 delivery fee.
Of course the packaging was shiny – what else would you expect? and it came with a little note and some jelly sweets.
Now my quandary is when to start using it. The planner started in August and goes through to December 2017 , perhaps I will start on November 1st it doesn't seem right to jump in half way through a month. Or possibly wait for January?
This planner is beautiful, it has really smooth paper and I am delighted with it. I now have a whole 2017 planner insert from Paperchase that I don't need – give me a shout if you'd like it, i'd love someone to put it to good use!