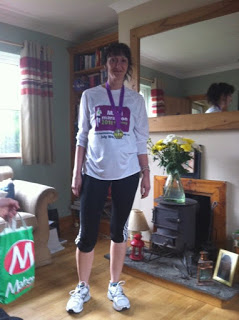 So Saturday was THE BIG RACE!! it started rainy and windy at 5.30 am when I got up to eat peanut butter and nutella sandwiches and a banana…..
I think I should say that "Maxi Marathon" is a bit misleading, am I the only one who thinks it suggests further than 26.2 miles?? I think it was because half marathons are "Mini marathons" and this was 15 miles. But getting back to the story…..
We (all 1000 and some competitors) were taken by bus through Molls Gap to the Sneem road, I had thought we were starting from the lake but we kept driving for another mile and a half. From there the rain stopped briefly and off we went!
Its amazing how fast the crowd thinned out, we could see the fast runners way off in the distance after half a mile. Judy ( my running buddy and good friend) and I ran 10 minute miles for the first 8 and then my knee decided to give up!! I was SOOO disapointed, Judy did very well and ran almost all of the course, but I walked/ ran untill the half marathon mark (13.1 miles) and then walked the last bit with a jog to the finish line!!
The atmosphere was great, so many happy people at the finish line, my time was 2 hours 48 minutes. I had hoped to finish in less than 3 hours so I was pleased with that.
On the back of the shirt they gave everyone it says, " I completed the worlds most beautiful road race" and I am very proud to have it!!!!!!
I spent Sunday painting and creating and taking it easy, then went to see Harry Potter, so all in all it was a great weekend!!