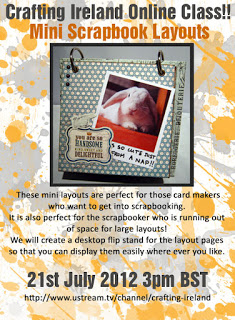 Crafting Ireland is hosting a free online class on the 21st July at 3pm BST. In the class we will create some mini scrapbook layouts. These layouts are perfect for card makers who want to get into scrapbooking or for scrapbookers who find they are running out of space for bigger layouts! We will also make a desktop flip display stand for the pages so you can show them off where ever you like!
Supply list for the online class
Mini layout pages:
*4 sheets of cardboard/chipboard at 13cmx13cm
*10 sheets 6×6 paper cut down to 13x13cm – keep the off cuts!
*This will make 4 double sided pages so you will have 8 pages in total, you can of course make more if you wish!
* Polaroid style photo mats: photos are 7.4 x 7.4 cm and the white card to matt them on is 9.6cm x 8.1cm.
*You will need 8 photos and 8 photo mats
*Adhesives, border punches, trim, score board, duct tape and tools as usual
*Binding rings or ribbon (Binding rings do work the best)
*Crop a dile/eyelet setter and eyelets (optional)
*Hole punch
For the stand:
*1 x Sheet of chipboard 30cm long and 15cm high
*2 x pieces of chipboard 15cm high and 6cm wide
*Duct tape
*Paper or paint to cover it
*Optional – embellishments. I use tissue tape.