Every January I get this longing to put my house and life in order – I write lists (I do this all year, but especially in January) these lists cover all manner of things, things i'd like to achieve, things i'd like to do regularly. By the end of the year some things have been done, some started and then forgotten and some things just keep turning up on the list because I never do them!
These are some of this years list:
Organize every inch of storage space in my house – this means in the kitchen and the dreaded Cupboard under the stairs.
Learn how to take decent photos so that I can document the progress of the above.
Run a bit more often.
Get my accounts in order – this is one of the re-occurring ones, but this year I have a tip or two to help.
Get to grips with the meal planning that I started and gave up last year and do only one food shop a week*
* – this may be normal to most people but I hate food shopping, I don't plan ahead and consequently end up shopping for each dinner EACH DAY!!!! so my lack of organisation is making my least favourite activity happen more often.
WHY AM I NOT LEARNING FROM THIS???!!!!
Another recurring one – blog more often. If I write about more subjects then I will obviously have more posts to share. ( Am I a genius or what?!) so, I intend to include any renovation projects, maybe the odd recipe, better quality photos and lots of art. These will all be blogged about honestly, so if it goes wrong you will see it, if I'm working all day in my pyjamas with my hair looking a terrible mess, thats the photo you will see, because trying to be perfect is bloody hard work!
So, the "Accounts" one – well, that means both business accounts and household spending. I am a disaster for keeping business accounts up to date, when I started my business I was told " Do the accounts every week" "Of course" I said, and I meant it……. suddenly three months had passed and I had one entry in the book.
Now, thanks to one of my beautiful Youtube friends Marlene I have been inspired to keep up with things by making them pretty to look at – I know, its a bit fluffy, but she makes everything sooooo pretty. (you should see her house its beautiful! she decorates for every celebration, have a look at her channel, Valentines was one of my favs last year.)
Anyway, if I make a nice binder I bet I do the work more often…….. maybe!
Also, I found this on Pinterest today I found this: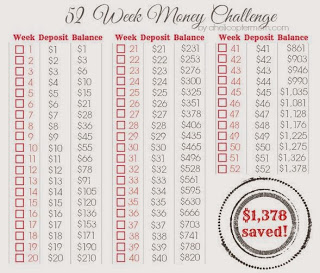 I pinned it from honeywerehome.blogspot.ie but it was designed by ahelicoptermom.com
The idea is that this week you put €1 in a jar, next week €2 and so on and in a year you will save €1,378. Now things are easy up to about week 20 – then it gets a bit hairy, I mean saving €30 – €40 EVERY week might not happen, but if I put €10 away for the first nine weeks I will be ahead of the game. Also, if I have a bonus I could maybe skip to week 30 in February or something.
I will let you know how it goes!
So, that is all I have to say today. If you want a serious kick up the bum on the "Organising your house " front then check out
Nikki's
channel, she is freakin amazing – (I love her videos, I actually turn out drawers and cupboards because of her!)
See you soon!! xxx