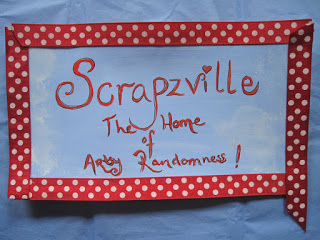 Hello ladies, I was trying to think of something really cool to make for January…… what do you think of this?
Have you looked at Youtube lately? Marion Smith started a 31day challenge and everyone is doing it!!
The idea is (for those of you that don't know) to set yourself a challenge for each day of January, and then make and post a video about it. In fairness, Marion makes it look effortless, she is quite amazing!
In theory I think this is a great idea, imagine how much you would get done?!
But, I know I wouldn't keep it up, and since setting attainable goals is one of my resolutions, I'm not going to start it.
So, for those of us who are playing the Scrapzville swap game this month, here is the plan…..
We will make a journal I suppose A5 is the biggest it should be, with a page at the front to list 5 goals. Then each of the 5 goals will have a page for writing about it and a page for a photo.
Because this will need alot of space in it, we only have to add a few embellishments, therefore it should be quick enough to make.
You can discuss colours with your partner, and then send them off to each other. Next month, when your 5 challenges are done we can post about them and see how we all got on.
So, i'll contact you all with your partners, and let the fun begin!!!!
Lotsa love,
Felicia x