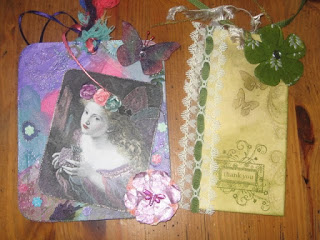 This morning I had a lovely surprise when the post arrived…. these tags came from Kay who lives in New York. She sent them as a RAK – Thankyou Kay!!!!! They are beautiful, the fairy is Kays first attempt at mixed media. FAB!!!!!
Over the weekend I had a bit of a polka dot frenzy…. this wooden chest had been around for at least a year waiting to be turned into a sewing box.
and this blue and white polka dot fabric from the
Crafty Alley shop
was perfect for yet another scatter cushion on my bed! (Have you ever used Bondaweb? its the bomb for adding designs to fabric – just iron it on!)
Last, but not least, here is a sneaky peak of the "How does your garden grow album" I made for Ann. The full cover will be revealed when she has finally seen it herself! ( being two weeks late finishing an album for my own swap is just scandalous!!)
So, thats what i've been up to for the weekend, i'm a whole 8 rows into an Aran sweater that is going to be a epic knitting adventure! I'll post pictures when its a decent size.
Hope you all enjoyed the weekend,