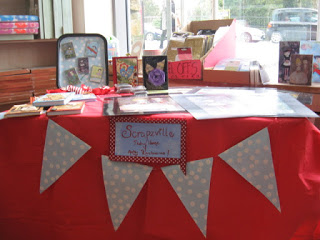 Yesterday was the Crafty Alley Shops 3rd birthday and Cathy had arranged a craft fair for the day. This is my little stall, there were loads of friends there that I hadn't seen for ages so it was really nice to catch up. the crafts were amazing and inspiring, I wish I had taken more photos! I'm seriously tempted to take up patchwork ( or is it quilting?) but I really dont' need another addiction!! ….. however, I did buy fabric while I was there………
This is Christine and her daughter, we met online before this, so it was lovely to put a face to the emails! You can see Christines work on Etsy, at Killarneycardscrafts.
and the amazing Viv O'Shea, quilting queen and daffodil farmer!! in the time we were in the fair Viv had made almost all the strips she will need for her new "sew in a row" quilt. That is one of her other projects hanging behind her.
There were also ceramics and weaving and a candlemaker, in all a very enjoyable day!