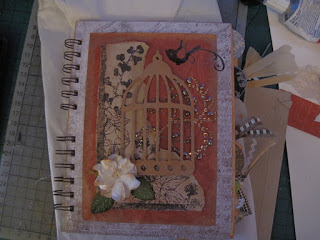 The January Scrapzville challenge was to create a journal in which you could write about 5 achievements. Ann was my partner and today (yes February 23rd!) we are swapping……. so this is the cover, i've left alot of space inside for writing.
The paper is mostly ledger paper from the Slice stack with some colour thrown in for good measure.
Ann hasnt' seen this yet, but at the moment she is driving over here so it won't spoil the surprise! I hadn't done any paper crafting for a while, it was fun to get the Big Shot out again!
I think one of my challenges to put in my journal will be CLEAN MY DESK!! its no wonder I can't find anything, I actually made the back cover twice, the first one is missing- presumably hiding amongst this mess. I'm sure it'll turn up when I'm searching for something else…………